Our faith is personal, but not private. Faith must be lived out in the world. Jesus tells his disciples that whatever we do for the least in our world, we do for him. We try to reach out in compassion and love, serving as Jesus calls us to serve.
Backpack Ministry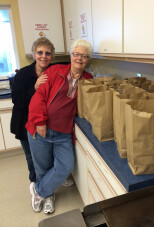 We at Ridgefield United Methodist Church are committed to helping each and the families in our community. Our Backpack Ministry provides backpacks of food and necessities for children in our schools who could use some extra food help on the weekends. To get involved or request a backpack, contact Margie Stoner
lunch buddies
Every Tuesday, several of our church members go to Union Ridge Elementary School to share lunch and play games with the first and third grade students. If this sounds fun to you, contact Pastor Meredith.
FRIENDS OF THE CARPENTER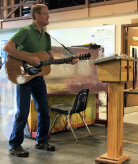 Our Pastor and church members lead monthly worship and music at Friends of the Carpenter. They are a non-profit, faith-based day facility that provides safety, structure and purpose for vulnerable members of our community.