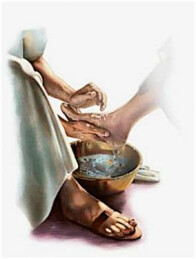 Maundy Thursday
Thursday, March 29, 7:00 pm, Sanctuary
We'll remember Jesus' Last Supper with the disciples and how he served them by washing their feet. We will celebrate with communion and with an optional foot washing ritual. (If you would like to participate in the foot washing, please wear simple footwear.)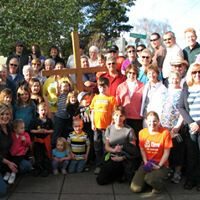 Good Friday
Friday, March 30,
Cross Walk, 5:00 pm, Davis Park downtown Ridgefield
Soup Supper, 6:00 pm, Stations of the Cross:, 7:00 pm
We will meet in the park and slowly make our way to the church, carrying the cross and praying for our neighbors and community. We'll meet at church for a simple soup supper at 6:00, and then have a prayer service of stations of the cross at 7:00 pm.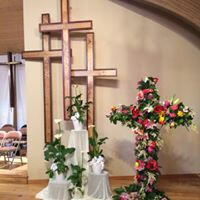 Easter Sunrise Service
Sunday, April 1, 7:30 am, Fellowship Deck
Wake up early to start the day with the good news of the resurrection! Bring a flower to put on the cross.
Easter Breakfast and Easter Basket Craft
Fellowship Hall
Following the Sunrise Service, we'll have breakfast at 8:00 am. The Easter basket craft is open to all kids and will begin at 9:00 am and end at 9:45 am.
Easter Sunday Service
Sunday, April 1 10:15 am
Our biggest celebration of the year will include Easter music and Communion . Invite your friends and family to this triumphant and inclusive celebration!