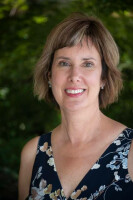 Pastor Jo Ann Schaadt
Rev. Dr., Pastor
E-Mail:

Pastor Jo Ann has been in professional ministry since 1994, serving churches in W.OH, Seattle, Anchorage, Moses Lake and Vancouver, WA. She looks forward to opportunities of re-opening our sanctuary and our community for worship and for mission. Her favorite part of each week is "staff" meeting where a group of young leaders join to connect and negotiate the nuts and bolts of ministry. Pastor Jo Ann enjoys leading worship and visiting members whether at home or in the hospital and she looks forward to engaging community leaders.
Pastor Jo Ann completed most of her doctoral work while in Alaska. She focused on biblical teachings and faith practices that have been wrongly used to oppress vulnerable people – specifically Alaska Native women. With this degree, she was excited to teach an inclusive view of world religions and religion in America at Big Bend Community College.
In her first career, Jo Ann worked as a speech-language pathologist with children who were diagnosed with severe and multiple disabilities. Through her life she has felt called to care for persons who were made to feel excluded. Jo Ann has been a strong advocate for the inclusion of LGBTQ+ persons in all aspects of ministry. Her daughter Sara will begin studies at UW Seattle in September 2021 and will hopefully take her cat with her. Jo Ann will continue to care for a terrier named popcorn and will work to return to Moscow, Russia to visit her oldest daughter, Anna.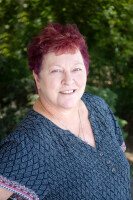 Jennifer Bohn-Hodapp
Music Director
E-Mail:

Jennifer understands that her musical abilities are a gift from God, and she is passionate about sharing that gift to lift others and strengthen their faith. She directs our growing choir, plays piano and organ when we sing traditional hymns and plays keyboards in our praise band. In addition to her work for Sunday mornings, Jen is honored to play for memorial services and weddings, and is always looking for ways she can serve God through music.
Jennifer has her doctoral degree from the University of Phoenix in education and teaches at Jemtegaard Middle School in Washougal, WA. When not on the piano bench, Jennifer enjoys spending time with her Husband, Philip Hodapp and cheering on the Oregon Ducks!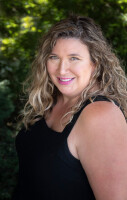 Megan Schlegel
Office Manager and Children's Ministry Director
E-Mail:

Megan loves teaching, loves children and loves God, so she's a natural as our Children's Ministry Director. Megan works with a team of volunteers to lead our Sunday Children's Church, annual Children's events such as the Christmas pageant and summer celebrations, and nursery program.
Additionally, Megan serves our church during the week as our Office Manager. She provides communication and coordination support for Pastor Jo Ann. Megan helps to drive improvement in our church outreach and connectivity as the stable go-to person leading online church communications and providing general information needs. In addition, she leads the church management systems and assists our congregational outreach teams.
Megan and her husband Kelly are the parents of three children, Lilly, James, Olivia, so they know the challenges of giving their children a Christian foundation while balancing the needs of a busy family. She doesn't have much spare time, but she still manages to grow an amazing garden and volunteer in her children's classrooms.